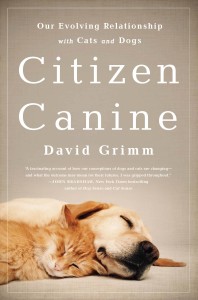 Hi Everyone,
Thanks so much for your support of the book. It has been selling well, and it continues to garner great reviews. I just had three new ones come in last week:
The Bark: "Citizen Canine is an easy, enjoyable, must-read for all who want to know more about these fascinating beings."
Cat Fancy: "A fascinating exploration of the changing status of dogs and cats in society."
The Conscious Cat: "Anyone who wants to gain a better understanding of how our relationships with cats and dogs evolved will find this book enlightening."
Science News: "Grimm does an excellent job of documenting how Fido became family and how that relationship may be changing."
I've also had three stories related to the book published this month: "The Secret Language of Dog Play" in The Washington Post; "How The Rising Status Of Cats And Dogs Could Doom Biomedical Research" in Popular Science; , and "Ten Things You Didn't Know About Cats and Dogs" in The Huffington Post.
And here are some of the previous reviews for the book:
"An engaging account of how dogs and cats came to be our best friends." –The New York Times
"Well researched and also very personable, this book will make readers think as they look into the eyes of those furry beings that share their lives." –Booklist
"This engrossing, enjoyable, and well-researched title contributes positively to the literature on companion animals and belongs in all libraries." –Library Journal (starred review)
"An arresting and valuable overview, it's packed with inspiration and imagination for our future relationship with our four-legged friends."  –Seattle Kennel Club