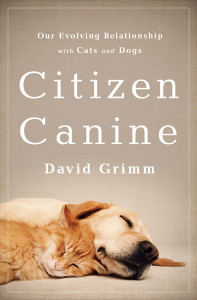 Dear Friends,
After four years of hard work, I'm proud to announce the publication of my first book, Citizen Canine: Our Evolving Relationship with Cats and Dogs. The book is about how pets have become family, not only in our homes, but also in the eyes of society and the law. Reviews have begun coming in, and they've been great so far.
"An engaging account of how dogs and cats came to be our best friends." –The New York Times
"Well researched and also very personable, this book will make readers think as they look into the eyes of those furry beings that share their lives." –Booklist
"This engrossing, enjoyable, and well-researched title contributes positively to the literature on companion animals and belongs in all libraries." –Library Journal (starred review)
"Grimm's most valuable contribution… is his reasoned and well-researched discussion of the pet "personhood" movement, particularly its legal implications for veterinarians, scientific research, and agriculture." — Publishers Weekly
"Eye opening" – National Geographic
"A well-balanced, inquisitive historical analysis that pivots smoothly into what the future might hold, noting the combustible feel between proponents and opponents of greater rights for man's best friend. … 'Canine Citizen' serves up a familial, non-science approach that is bound to appeal to everyone. …  An arresting and valuable overview, it's packed with inspiration and imagination for our future relationship with our four-legged friends."  –Seattle Kennel Club
"A book of note" – The Toronto Star
I've also just had two very nice Q&As published, one in National Geographic and one in Wired.
The book is available on Amazon, Barnes&Noble, IndieBound, and bookstores everywhere. Please help me spread the word!